A list of what the ROBLOX Animation Plugin needs:
[ul]
[li]An ability to set custom increments on both Rotation and Move.[/li]
[strike] [li]An ability to delete a frame. …this is very important…[/li]
[li]An ability to copy a frame.[/li][/strike]
[li]An ability to edit an existing animation free of charge.[/li]
[li]A cleaner, more responsive layout, the current layout is subject to text overlapping like this at the end of the animation frame, it also can get unresponsive with big animations.[/li]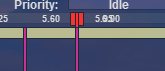 [li]Make the way to change animation length more obvious, who would guess that you have to click the last frame to do it without looking it up? There is literally no indication to click it, no buttons, no nothing.[/li]
[li]Add more visible markers to the timeline to make positioning the next frame easier. Currently you have to be perceptive to work out the spacing between frames.

[/li]
[li]If you accidentally turn off off the animation editor, make it prompt a save before closing.[/li]
[li]Add a button to make a new test animation and insert it into the AnimSave model. Currently you have to click play to get a copy of the test animation.[/li]
[/ul]
I think others can add onto this too. This plugin sure is missing a lot of features…